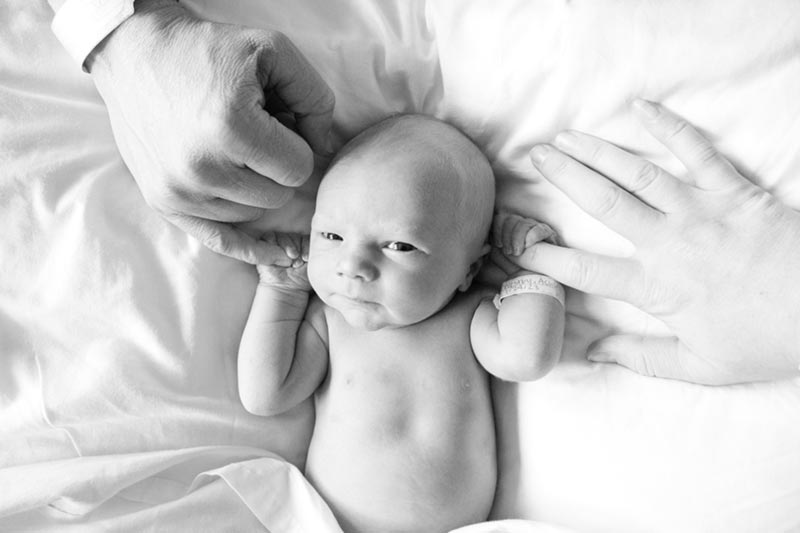 NASHVILLE, Tenn. – Levi Henry Westby was born Tuesday, January 24, 2023, at 0300 hours (CT) at Saint Thomas Midtown hospital in Nashville, Tennessee to parents Jeremy Westby and Ashley (Read) Westby. He weighed 7 lbs and 7 oz and measured 18.5 inches.
A bit of Jeremy and Ashley's history first, before an explanation of the names…
The Westbys were around five months married when they traveled to Southern California in the fall of 2021 to celebrate Ashley's cousin's wedding. Prior to the nuptials, they opted for a day trip to Disneyland (big surprise!). After Disney's evening fireworks, they decided to take in The Haunted Mansion at Disneyland Park, and while in the waiting queue, they observed multiple prop gravestones. One of them had 'Levi' on it, and both of them turned to each other simultaneously and said, 'I love that name! That'd be a great name for our child!' Of significant note, Ashley worked at Disney Animation and was a key producer on Frozen, as well as many other well-known feature films. She also worked at DreamWorks Animation, Reel FX, Fox News, Walt Disney Television, CONAN, The Ellen DeGeneres Show, and Walt Disney World in Orlando, Florida.
Fast-forward to early June of '22 when they discovered they were pregnant, a couple of boy names stuck out, but Levi remained within the top two choices. During the third trimester, they traveled down the baby name rabbit hole and looked through Scottish names, the latest-greatest trendy fashionable titles, and after detailing both the female and male selections, they approached the daunting task of going through the 100,000 name book. It was Christmas, and with trips to both Oklahoma City and South Carolina, they gave up after the C's.
Regardless, their minds were already made up, and whether they had a girl (one name chosen) or a boy (two names chosen), they were ready.
Interestingly, as soon as Levi made his grand entrance this past early Tuesday morning, the doctor and delivery nurses forgot that it was a surprise – and nobody in the room (save for 'Auntie' Tracy Rhew) knew whether Baby Westby would be a boy or girl. So as soon as they pulled him up and laid him in Ashley's arms, one of the nurses proclaimed, "IT'S A BOY!!"
Of note – in 2022 The Westbys officially became Lord Jeremy Westby and Lady Ashley Westby, by way of helping to save the Scottish woodlands through Established Titles. Their designated plot is near Eddleston, Scotland. Supposedly, you could call it reparations, aka 'sorry William Wallace gave King Edward such a hard time', or simply… GO VIKINGS #SKOL