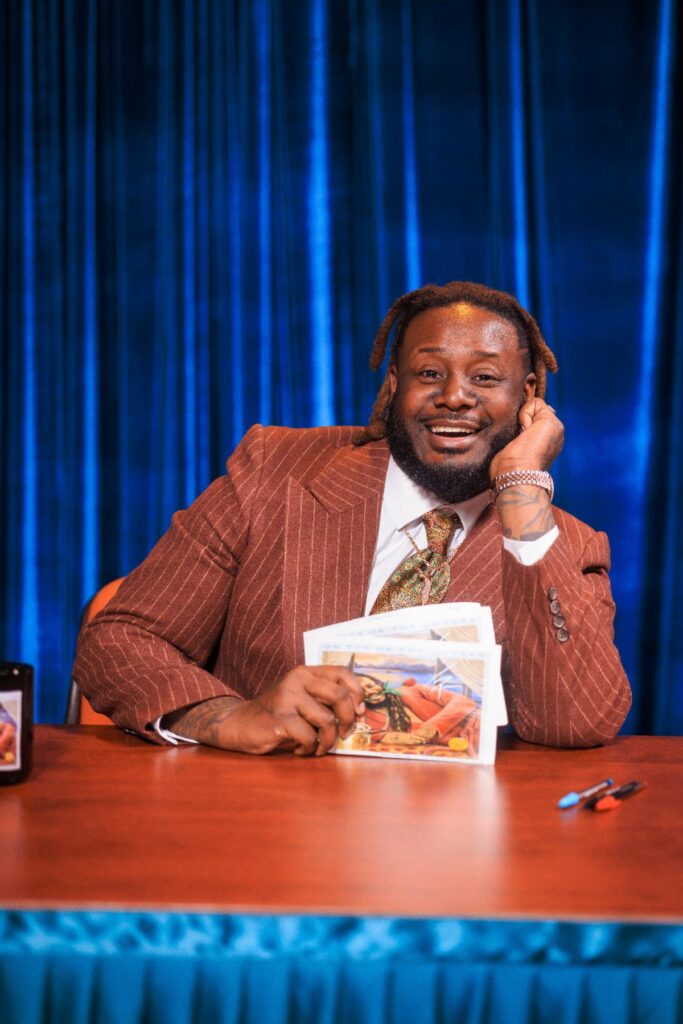 Grammy Award-winning, multi-faceted artist and entrepreneur T-Pain has released his highly anticipated, long-awaited covers album On Top Of The Covers, out now via Nappy Boy Entertainment. PRESS HERE to listen.
The album features an eclectic and unexpected mix of reimagined hits that all mean something special to T-Pain, done in his own style and showcasing his stunningly soulful and smooth natural, non-AutoTuned voice which shocked audiences when T-Pain won the first season of FOX's The Masked Singer after previously delivering what was then the most-watched NPR Tiny Desk session of all time.
On Top Of The Covers features creative covers of Sam Cooke's "A Change Is Gonna Come," Journey's "Don't Stop Believin'," Dr. Hook's "Sharing The Night Together," Sam Smith's "Stay With Me," Chris Stapleton's "Tennessee Whiskey," Frank Sinatra's "That's Life" ft. NandoSTL (a Nappy Boy Entertainment artist), and Black Sabbath's "War Pigs," plus an interlude "Skrangs" (in K Major Sus).
"Each one of these songs means something to me and helped me fall in love with music at different points in my life. I'm releasing this covers album from the view of what I hear when I listen to each song. I can't wait to share with the world what I've been working on the past several years," says T-Pain.
Ahead of the album, T-Pain has been releasing some very entertaining teaser visuals – see T-Pain as an anchorman for Nappy Boy News HERE (absurd "Florida Man" headlines included), his dedication to the finer things in life HERE (with a genius tagline – "On Top Of The Covers is so fine, it even pairs well with white wine"), his warning to not call it a mixtape HERE, and his "drunk outtakes" HERE. Stay tuned for more visuals to come!
To celebrate the album's release, T-Pain is playing three very special sold-out shows in Los Angeles – 'An Intimate Evening With T-Pain' is set for March 17th,18th, and 19th at The Sun Rose at Pendry West Hollywood. He and his band will perform a special set of songs from On Top Of The Covers as well as some of his biggest hits and fan favorites.