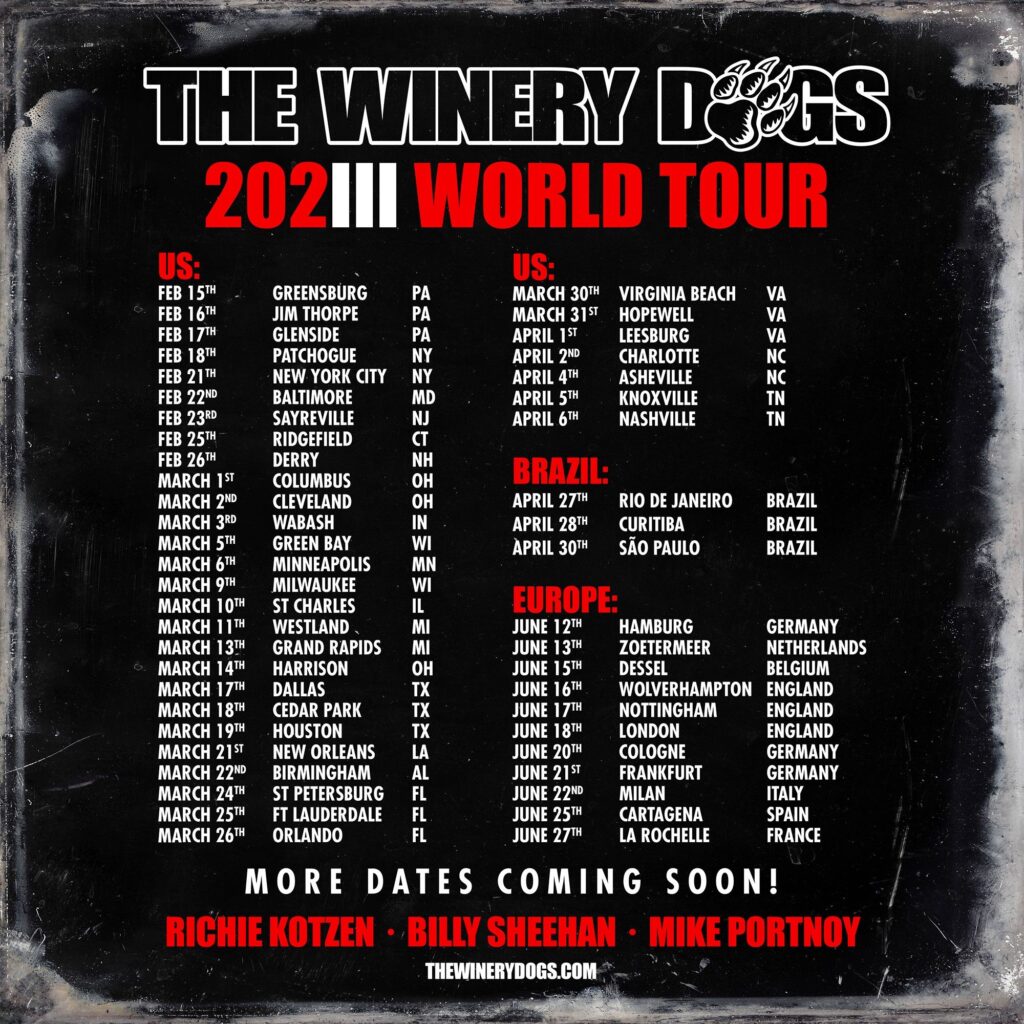 It's been, well, a literal dog's age since the vibrant powerhouse trio known as THE WINERY DOGS marked their recording territory with new music. Now, following a seven-year break from the studio, they're finally back in full force with their aptly named third album III, which was released today on the band's Three Dog Music label (via Burnside Distribution/The Orchard) on CD and all digital formats, with vinyl coming in a few months.
III follows in the paw steps of their first two albums, once again being self-produced by the band—Richie Kotzen, Mike Portnoy, Billy Sheehan—and mixed by longtime band associate Jay Ruston.
Even without radio airplay, videos for the first two songs to be released from the album—"Xanadu" and "Mad World, both directed by Vicente Cordero–have already accumulated over 1.2 million views on YouTube.
THE WINERY DOGS are gearing up for the launch of their "202III World Tour," which starts February 15 in Greensburg, PA at the Palace Theatre. Ticket and VIP package info can be found on the band's official website.
III is the follow-up to the band's critically acclaimed and Billboard-charting album, HOT STREAK, which was released October 2, 2015 on Loud & Proud Records via RED (a division of Sony Music Entertainment). After landing in the Top Five on many of Amazon's pre-order charts, including #1 on the Amazon BestSellers/Hard Rock chart and #1 on the Amazon Pre-Orders/Hard Rock Albums charts, it sold 30% more than their 2013 self-titled debut, landing them on various Billboard album charts including #2 on "Top Current Alternative Albums," #5 on "Top Current Hard Music" and "Top Hard Music Albums," #6 on "Top Current Rock Albums" and "Album Core / Genre Rock," #15 "Top Current Physical Albums," #16 "Top Current Albums," and #30 on the "Top 200 Albums" chart.