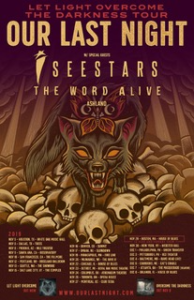 Ashland is set to take the stage as part of the "Let Light Overcome The Darkness Tour." Starting on November 5th, the band will be performing in cities across the United States alongside Our Last Night, I See Stars, and The Word Alive.
On the upcoming tour, the band shares: "We've been fans of Our Last Night for a very long time. It still hasn't really sunk in that we get to go on tour with them, I See Stars and The Word Alive. These are bands we've watched at Warped Tour and now we get to open for them. We're thankful for this opportunity and excited to hit some new areas & states we haven't played for yet!"
An alternative rock duo from central Illinois, Ashland released their visual EP MISC on Rise Records in October 2018. Since then the band has been busy writing for their debut full-length, details soon to come.
Until then, catch them touring across the United States with Our Last Night, I See Stars, and The Word Alive. Tickets are on sale now and available at ashlandofficial.comashlandofficial.com