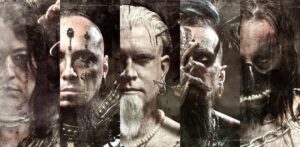 LA alternative metal band GEMINI SYNDROME have just announced dates for their first headline tour in support of their long-awaited new studio album 3RD Degree – The Raising. The band will be joined on the first leg of the tour by Ovtlier, and on the second leg by Oh! The Horror. Also joining the tour are Pushing Veronica and Them Damn Kings. All tour dates are listed below.
GEMINI SYNDROME are offering special VIP packages for the tour. These packages include a special private acoustic performance, a VIP 'Synner' laminate, autographed poster, and meet & greet session with the band. (*VIP Packages must be purchased in addition to a regular concert ticket.)
Tickets, and VIP Packages for all shows are available at: GeminiSyndrome.com
The band's new studio album 3rd Degree – The Raising will be released worldwide on October 15, 2021 via Century Media. Special pre-order album configurations (limited edition vinyl, deluxe CD sets, etc) along with special merchandise are available now via the band's official website: www.GeminiSyndrome.com Save, or pre-order the album digitally HERE.
Save or pre-order the album digitally HERE.
Direct support on the tour will be split between Rochester, New York's Ovtlier, who will be on the first half of the tour (Oct. 28 – Nov. 13), and Sacramento, California's Oh! The Horror, who will join the run for the second half of the dates (Nov. 14 – 27). Additional support comes from pop-punk rock powerhouse Pushing Veronica (https://linktr.ee/pushingveronica), and New Jersey hard rock wrecking machine Them Damn Kings (www.facebook.com/themdamnkings).
3rd Degree – The Raising is the long awaited, mind bending final chapter of GEMINI SYNDROME's debut trilogy of albums; the first being 2013's Lux, and the second being 2016's Memento Mori (which hit #1 on Billboard Heatseakers Album Chart and spawned five singles). But whereas those first two albums dealt with the painful struggles of life and death, 3rd Degree – The Raising celebrates the extreme rituals of rebirth. Produced by Matt Good (Asking Alexandria, Memphis May Fire, Hollywood Undead) this is undeniably the heaviest, and darkest album of the band's career; featuring the singles "Die With Me," "IDK," "Abandoned," "Broken Reflection" and "Reintegration."
Connect with the band:
Facebook
Instagram
Twitter
YouTube