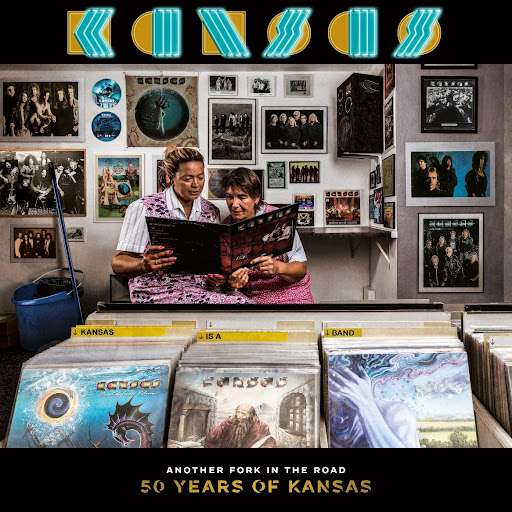 KANSAS, America's legendary progressive rock band, will celebrate their 50th anniversary in 2023. To commemorate this landmark occasion, current label InsideOutMusic are pleased to announce Another Fork In The Road – 50 Years Of Kansas for release on the 9th December 2022 in Europe & 16th December 2022 in North America. A career-spanning collection, it features carefully-selected tracks from across the bands sizable discography, as well as a new version of 'Can I Tell You'. Originally recorded and released on their 1974 debut, the song is updated by the current line-up. It provides a full-circle perspective on the band's long and continuing history that has seen them release 16 studio albums and sell in excess of 30 million albums worldwide.
Today you can also now listen to the brand new version of 'Can I Tell You' on streaming services. Listen now here: https://youtu.be/Du4jjiMicU4
"The song 'Can I Tell You' may not have been our biggest 'hit,' but it is one of the most important songs in the career of the band KANSAS." says original member and guitarist Richard Williams. "'Can I Tell You' was the first song on the demo reel we sent to Don Kirshner. Hearing that demo is what led to KANSAS getting a record deal. It felt appropriate, after fifty years, to come full circle and record it with the current lineup."
Phil Ehart comments: "We are really honored by the commitment that InsideOut Music has put into 'Another Fork in the Road.' This is far more than just another greatest hits album. 'Another Fork in the Road' is an in-depth representation of the evolving and winding musical journey of the band KANSAS that's been 50 years in the making."
Another Fork In The Road – 50 Years Of Kansas arrives as a 3CD Digipak collection, including extensive liner notes by journalist Jeff Wagner, as well as pictures of rarely-seen memorabilia and archive material, all overseen by founding member Phil Ehart. Pre-order now here:
Kansas will celebrate their 50th anniversary with extensive touring in North America in 2023. The band is currently comprised of original drummer Phil Ehart, bassist/vocalist Billy Greer, vocalist/keyboardist Ronnie Platt, violinist/guitarist David Ragsdale, keyboardist/vocalist Tom Brislin, and original guitarist Richard Williams.
For a full list of upcoming dates, head to: