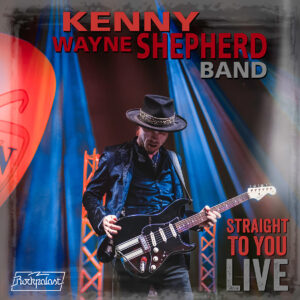 Kenny Wayne Shepherd is set to resume touring with the launch of his "Straight To You LIVE Tour" later this month. The first date is set for Oshkosh, WI on June 24 and brings to a close the longest interval of time that the multi-platinum selling and five time Grammy-nominee has been off the road since the inception of his record breaking career 25 years ago. The recipient of multiple Billboard Music Awards commented, "I can't wait to get back on the road. After being unable to get out there and do what we love to do, we're really excited to hit the road, especially with some of our friends joining us at so many of these shows."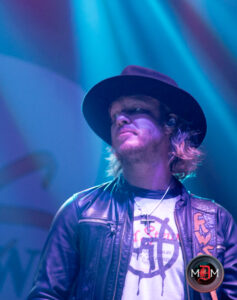 The tour will see Shepherd and his band including Noah Hunt (vocals), Rock and Roll Hall of Famer Chris Layton on drums, Kevin McCormick (bass), Joe Krown (keyboards), Joe Sublett (sax) and Mark Pender (trumpet) – performing through the summer and fall at both festivals and concert venues. They'll be joined by a number of friends on show bills including Ally Venable, Robert Randolph, Larkin Poe, Bette Smith and Shemekia Copeland with whom he recently collaborated on the single "Hit 'Em Back." Shemekia has won 9 Blues Music Awards, including the 2021 Entertainer of the Year Award. "Hit 'Em Back" was released earlier this month by the Mascot Label Group's Provogue label and has taken off at both Blues and Americana radio, reaching #1 one on the iTunes Blues Song chart.
Shemekia commented, "Kenny and I have different styles and when you put them together something really special gets created. We both had so much fun in the studio, I can't wait to get out on the road with him." Kenny stated, "Working with Shemekia has been such a great experience and I can't wait to do some live shows with her." He added, "Ally Venable is a great up and coming artist, Larkin Poe are always amazing, and Robert Randolph is a force to be reckoned with."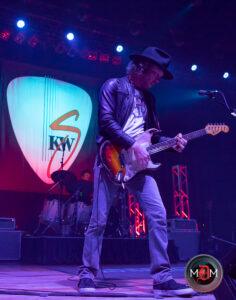 Beyond those headlining dates, Kenny Wayne Shepherd is co-billed with Buddy Guy, one of his personal heroes, on October 26, 28, 29 and 30 in Mobile, Ft. Lauderdale, Clearwater and St. Augustine. The tour takes its name from Straight To You LIVE, the concert video and CD set that was released late last year by Provouge. It was originally shot in Germany at the famous Leverkusen Jazzstage for the iconic Rockpalast TV show.
Confirmed Kenny Wayne Shepherd Straight To You LIVE Tour dates
6/24 – Oshkosh, WI – Waterfest Concert Series (a)
6/25 – Dubuque, IA – Q Casino (a)
6/26 – Sioux City, IA – Hard Rock Hotel & Casino (a)
7/3 – Ft. Worth, TX – Billy Bob's
8/8 – Casper, WY – Beartrap Summer Festival
8/14 – Winter Park, CO – Blues From The Top
8/20 – Lowell, MA – Lowell Summer Music Series
8/21 – Hampton Beach, NH – Hampton Beach Ballroom Casino
8/30 – Bloomington, IN – Buskirk-Chumley Theatre
8/31 – Kettering, OH – Fraze Pavilion (b)
9/1 – Ft. Wayne, IN – Sweetwater Pavilion
9/4 – Biloxi, MS – IP Casino
9/16 – Orlando, FL – Hard Rock Live
10/3 – Carson City, NV – Battle, Axe & Tracks (b)
10/26 – Mobile, AL -Saenger Theatre (c)
10/28 – Fort Lauderdale, FL – Broward Center (c)
10/29 – Clearwater, FL – Ruth Eckerd Hall (c)
10/30 – St. Augustine, FL – St. Augustine Amphitheatre (c)
11/5 – Des Plaines, IL – Des Plaines Theatre (d)
11/6 – St. Charles, IL – The Arcada Theatre (d)
11/7 – Evansville, IN – Victory Theatre (d)
11/10 – Harrisburg, PA – Whitaker Center
11/11 – New Brunswick, NJ – State Theatre (e)
11/12 – Collingswood, NJ – Scottish Rite Auditorium (d) (e)
11/13 – Phoenixville, PA – Colonial Theater (d) (e)
11/14 – Harrisburg, PA – Whitaker Center (d) (e)
11/16 – Rochester, NY – Kodak Center (d) (e)
11/17 – Albany, NY – The Egg (d) (e)
11/20 – New York, NY – Town Hall (d) (e)
11/21 – Ridgefield, CT – Ridgefield Playhouse
11/23 – Richmond, VA – Carpenter Theatre (f)
(a) = Bette Smith supporting
(b) = Larkin Poe supporting
(c) = Buddy Guy co-headlining
(d) = Ally Venable Band supporting
(e) = Shemekia Copeland guests
(f) = Robert Randolph supporting
I covered KWS in the past and trust me you will be treated to memorable night of blues sounds, and some great guitar riffs. With a year and half of no live music tickets will be at a premium so don't wait and be the one asking how the show was. Tickets are on sale now at KWS.
Connect with KWS
Official
Facebook
Instagram
Listen on Spotify
YOUTUBE
Twitter
Listen on Apple music