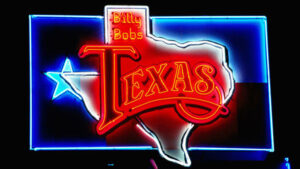 FORT WORTH, Texas – Continuing to celebrate their 40th anniversary, Billy Bob's Texas has been a staple venue located in the heart of the Fort Worth Stockyards National Historic District since they first opened their doors in 1981. Billy Bob's has remained a popular attraction amongst tourists and locals alike, offering the hottest live music and biggest names in entertainment throughout the year. Billy Bob's has welcomed almost 17 million visitors from around the world, making it a must-go venue in Fort Worth, Texas. The atmosphere of the distinctive site is unmatched, allowing guests to embrace their inner cowboy or cowgirl with line dance classes, country music memorabilia, and once again the return of their live bull riding experience.
Just when you think you've seen it all, Billy Bob's Texas has even more. The venue is not just a home for some of the world's greatest musicians and entertainers, it will also be hosting a pre-fight party for the #1 MMA and Muay Thai Promotion in Texas, "Xtreme Knockout," on August 26. The party will include an expo-style set up with vendors, giveaways, and more. The "Thursday Night Fights' at Billy Bob's include many talented Texas-based fighters, with XKO being the first MMA Muay Thai promotion in a squared cage at DFW Metroplex. Sports and fight fans will not want to miss this exclusive event at Billy Bob's Texas!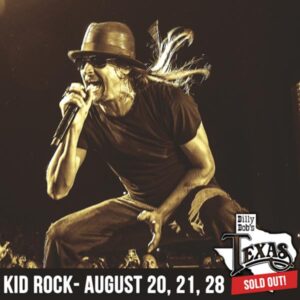 For more information on Xtreme Knockout MMA by XKO and tickets, visit HERE.
Their Honky Tonk Kitchen's new Executive Chef, Alex Walters serves up a wide variety of finger-licking authentic Texas Cuisine with options for every type of eater, ranging from burgers and BBQ to Chicken Fried Steak and Ribeyes and a variety of vegetarian options.
To see their full menu, visit HERE.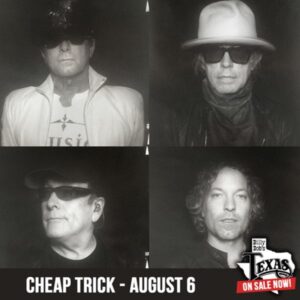 Carrying on with a vibrant summer, the August lineup at Billy Bob's is certain to please. Starting off the month style, American Rock band Cheap Trick (Aug 6) will set the tone with both fan favorites and fresh tunes, followed by the flair of American Tejano band Siggno (Aug 7). Always a fun time, Billy Bob's is hosting their 9th Annual Cowtown Conjunto Festival (Aug 8) outside on the Plaza with special guests South TX Homies, Jr Gomez & Conjunto Bandits, Lazaro Perez, and more included in the lineup! Roger Creager (Aug 13) and Casey Donahew (Aug 14) are sure to make feet tap and hips shake as Ross Cooper (Aug 13) dazzles at the 81 Club. Legend and American favorite Kid Rock (Aug 20, 21, 27 & 28) will bring the house down on the main stage with hits "All Summer Long," "Picture," and more. The Wallflowers (Aug 22) and Kevin Costner & Modern West (Aug 29) will close out the month in high spirits.
For the full concert calendar, special event, and visitor information, please go to billybobstexas.com
Tickets Still Available for The Wallflowers August 22
Low Ticket Alert For Kid Rock Shows On August 27
Tickets On Sale Now For Xtreme Knockout MMA AND Muay Thai Fight Night Thursday, August 26
New Concerts Announced And Tickets On Sale Now For Brett Young, Sam Riggs, Billy Currington, Melissa Etheridge, Colter Wall, Cole Swindell, Lee Brice, And More
Tickets for Willie Nelson & Friends On Sale Starting August 6
To buy Billy Bob's Texas merch or any of the Live at Billy Bob's Texas CDs and DVDs, click here to visit the online store, or to buy tickets for special events and concerts, go to billybobstexas.com.