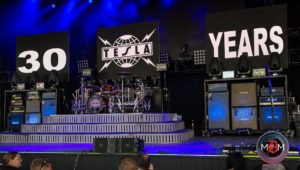 You could not have asked for a better night of perfect weather if you tried over and over, setting the tone for one hell of a night of rock and roll at Pine Knob, even the band's took note of the weather. The show kicked off at 7:00 with 80's rocker's Tesla. As goes with going on early you play to small crowds, not the case with Tesla as a fairly large crowd was present. Tesla thanked the their fan's for showing up early, with a loud roar from the crowd Tesla opened the show with "I Wanna Live" of their Forever More album released back in 2008. Cheers could be heard loudly in the night air 3rd song in as Heaven's Trail (No Way Out) energized the crowd, shortly after one of their more popular songs "Signs" released in 1990 had the crowd standing and loudly signing along with frontman Jeff Keith. Jeff was looking good and sounding on point tonight, definitely brought his pipes tonight. It didn't stop there up next was "Love Song" and the crowd took over the signing from there. Closing out their set was one of my favorites "Modern Day Cowboy". Can't forget Frank Hannon, Dave Rude, Brian Wheat, and drummer Troy Luccketta for their spot on performances. On this night Tesla stage presence was clearly noted and without a doubt the best set in a long time. I think it's time for a full set from the boy's.
Rock 'n' Roll Hall of Famer and the Godmother of Punk Joan Jett took to the stage opening with "Bad Reputation" of her Bad Reputation album. Joan Jett brought her fiery passion for music owning the stage from the get go. Jett payed all the must have popular song's this set. Two song's of which were from The Runaways "Cheery Bomb" and "You Drive Me Wild" During the set Keyboard player Kenny Laguna thanked the fan's and also mentioning that it was hard to sign a female fronted band with all dudes which was unheard back in the day so Jett and Laguna went on to make their own label called Blackheart Records which is still going strong. One of the bigger artist to sign with the label was Big Daddy Kane. The punk rocking Jett shredded the guitar all set long, with roaring ovations from her loyal fan's it was time for "I Love Rock 'n' Roll following that up with "Crimson & Clover" all but completed a great performance closing out with a cover tune from (Sly & The Family Stone) "Everyday People". First impressions are lasting impressions and this being my first Joan Jett and The Blackhearts concert it will be a memorable one for sure. Joan Jett has gone on to have three albums certified Platinum or Gold and has been a feminist icon throughout her career.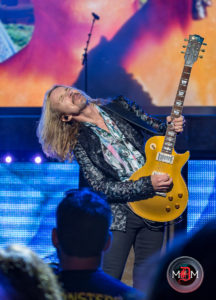 Styx and The Mission Tour made a stop at DTE or as Gowan and Shaw referred to as Pine Knob last night on a beautiful summer July 6th night in Michigan. For decades Styx has been rocking stages all over the world and showcasing their impeccable stage presence along with some guitar shredding thrown in from Tommy Shaw who joined Styx in 1975 along with James "J.Y." Yong. Not to be left out was some killer bass playing by Brian Wheat. Now to the front man Lawrence Gowan, I wanna say that Gowan brings true passion and charisma, along with some mad piano skills on the boards which Gowan displayed tonight a absolute perfect fit for the band. Styx opened with a track off the Mission album titled "Gone,Gone,Gone" a personal favorite of mine. The tracks continued from there with classic hits such as "The Grand Illusion" of their 7th studio album released back in 1977. Also from the album was "Fooling Yourself" as the crowd cheered on loudly. A crowd favorite from the evening was "Too Much Time on My Hands" Styx fans could heard singing from all around as Tommy Shaw let the crowd take over only to encourage them to be louder and louder and that the fans did.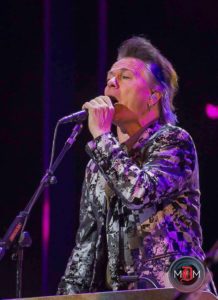 The time came for the band to cool down and let the incredible talent of Lawrence Gowan take over for and that Gowan did. It started with as Gowan said Pine Knob first piano solo delightful to listen to. From there he did a piece from the Mission album called "Khedive" a outstanding keyboard solo it was. The band in support of the 2017 the Mission album played to the delight of the crowd "Radio Silence". If you haven't already checkout their latest concept album today. After the solo was over Gowan gave props to the crowd especially the ones on the hill for carrying this song through the whole crowd as Queen's Bohemian Rhapsody a jaw dropping piano performance was being witnessed along with his high range vocals had the fan's of 13,000 energized to say the least. A surprise was about to take place as the band welcomed out founding member Mr. Chuck Panozzo a loud roar of approval took place as Chuck joined in to play "Come Sail Away". After the song ended Chuck said his goodbye's along with the band as Styx bowed to their fans for all the many year's of support. Cheers rang out loudly as Styx returned to the stage for their encore songs and a song that hasn't been played in quite some time followed called "Mr. Roboto" the crowd danced in excitement and continued as the night ended with Chuck returning to close out the show with the classic hit "Renegade".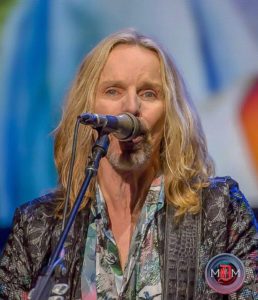 Pine Knob mark this in your books under memorable concerts. Don't miss this tour get your tickets today. I provide some links below from tonight's act's.
Joan Jett and The Blackhearts: