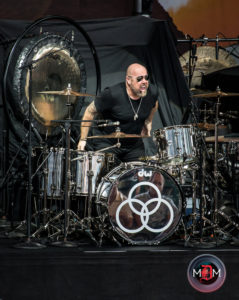 Michigan weather has been crazy hot this summer and Sunday was no exception, only this time Foreigner was bringing the heat. Upon arriving early I noticed a few more cars filling up the lot's more than past act's I've seen this year, a good indication we're in for a great night of music. The night kick of with the Jason Bonham's Led Zeppelin Evening, Bonham quickly got the early crowd going opening up with the Immigrant Song. Bringing back memories sounds of Good Times Bad Times started playing leading into the 3rd song The Ocean. Zep fan's were certainly reliving their past during the set. Bonham's set ended on a high note with the song of all song's Zeppelin classic hit Stairway To Heaven surely leaving a forever mark on his dedicated fan's.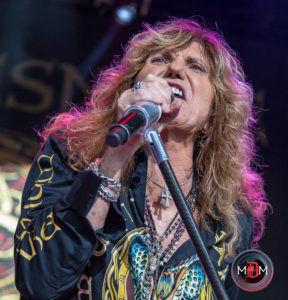 With the fan's all lathered up and wanting more up next was rock icons Whitesnake. By this time the crowd was growing in size and getting bigger by the song. The English rockers opened with Bad Boys of the Whitesnake album the band's seventh album. A song favorite for the night was the hit Slow an' Easy, easily had the crowd cheering and dancing in their seats and on the hill. What was to follow was totally kick ass a duel guitar solo took place between Joel Hoekstra and Reb Beach, did you actually think their was a loser in all this, Hell No, it was nothing but pure shredding of guitars.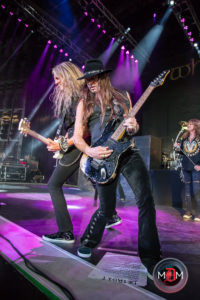 The cherry on all this was a drum solo by nonother than Tommy Aldridge who left the crowd in awe. Closing out their set was Still of the Night. I must say it was my first time seeing WS and was very impressed and totally missed out on past shows. David Coverdale still kicking some major ass with his vocals and stage presence.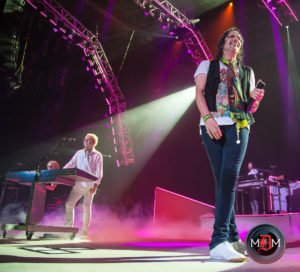 With a crowd of more than 13,000 in attendance the moment was finally upon us as the founding member of Foreigner Mick Jones emerged from the back onto the stage playing a few cords before walking down the ramp out to the screaming crowd with Kelly Hansen taking center stage belting out the classic hit Long, Long Way From Home of their The Foreigner Album released in 1977. Hansen who replaced Gramm back in 2005 is full of energy and passion feeding that to his fan's with total interaction all night long. Playing classic hits like Double Vision and Head Games was a awesome way to start out the night.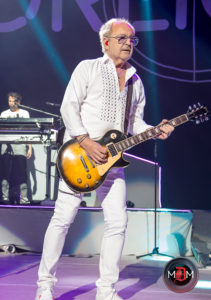 What's to say about Mick Jones, how about nothing. Jones guitar does all the talking you just listen and that's what the crowd did as Mick was shredding his guitar all set tonight a pure guitar treat for sure with mini solo's of Starrider and Feels Like the First Time. Hansen told the crowd he was looking for memories dirty ones we all been dirty time to time right, the memories were from Dirty White Boy. Without a doubt the best song of the night was a extended version of Jukebox Hero, with Hansen and the boy's killing the hit song from their 1981 4 album. Kelly disappeared for a bit only to rise up to the roar of the crowd on a platform over looking Pine Knob with the fan's rocking non stop. After picturing the scene if you will, Kelly went through the crowd to get up on stage finishing off a classic hit.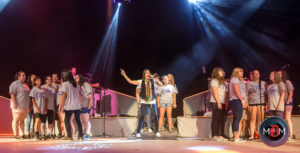 It was encore time and for Woodhaven Choir it was without a doubt will be a memorable one for them signing with Kelly to I Wanna Know What Love Is. This is something Foreigner does every tour giving a High School a chance of a life time. Ending a great night of rock n roll was Hot Blooded to the delight of the fan's, after the song Foreigner took their bow and thanked the crowd and said we will see you next year. Get out and see this amazing tour before it's to late. Below I supplied a link to the band's website for everything Foreigner.