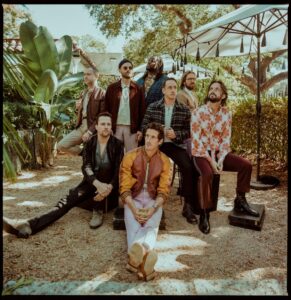 Chart-topping rock band The Revivalists have released a brand-new album track "Don't Look Back" today from their forthcoming studio album Pour It Out Into The Night (out June 2 via Concord Records), as #1 Triple A hit "Kid" rises to Top 3 at Alternative. The propulsive, frenetic instrumentation of "Don't Look Back" reflects the urgent spirit of the song, which is about getting up, persevering, and moving ahead. It pulls sonic inspiration from front man David Shaw's early punk-rock days and quickly became a fan favorite when it debuted live before its release. The album is available for pre-save/pre-order HERE, which includes an instant download of "Don't Look Back," "Down In The Dirt," "The Long Con" and "Kid."
On Thursday, May 25th, the band will perform "Kid" on TODAY with Hoda & Jenna – check your local listings and tune into NBC to see the national TV debut of the infectious hit song.
The Revivalists also recently released a stripped-back, acoustic version of "Kid" with an accompanying video. PRESS HERE to watch the official "Kid" video, which brings to life the hopeful and cathartic anthem about finding the zest for life, self-belief, and "living for the spirit now" as the song declares. Also featured on the album are previously released tracks "The Long Con" which acknowledges the deep divisions in our country with the hope that we can hold onto the power of love, and the mini-family epic "Down In The Dirt."
The band is getting ready to hit the road this year, which will include festival dates including Bonnaroo, Lollapalooza, Austin City Limits, Bumbershoot, and more, as well as co-headline tours with The Head and The Heart and Band of Horses, beginning June 30th. Tickets are on sale now at www.therevivalists.com. It was also announced that The Revivalists will return to Big River Get Down, the annual two-night concert event in Hamilton, Ohio September 22-23 that is created, produced, and hosted by proud Ohio native and The Revivalists front man David Shaw. Proceeds from the event are donated to the City of Hamilton's 4th of July fireworks and RiversEdge Concert series.
Pour It Out Into The Night is a life-affirming album that offers an unburdening and an appreciation for living in the moment. The band's songwriting was fueled by lessons in gratitude that came during newfound fatherhood and marriage and the pandemic lockdown as the world came to a standstill, shifting their perspectives on what really matters in life. Pour It Out Into The Night is their most self-guided album yet and was produced by GRAMMY Award-winning producer Rich Costey [Muse, Foster the People, Death Cab for Cutie] with co-production from David, Zack, and the rest of the band.
The band will be making a stop at Frederik Meijer Gardens on July 31 in Grand Rapids, Michigan. For more on this event click here.