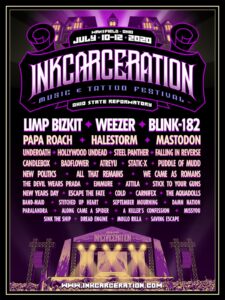 Ohio's Rock Event of The Summer is Back July 10-12, 2020 at the Historic Ohio State Reformatory.40 Bands on Two Stages, 60 Tattoo Artists, Reformatory Tours, Gourmet Food Trucks, Camping and Escape from Blood Prison Haunted Attraction. Shawshank Redemption was filmed at the penitentiary.Tickets are now on sale now for the third annual INKCARCERATION Music and Tattoo Festival, featuring headliners Limp Bizkit, Weezer and Blink-182, at the famous Ohio State Reformatory, a.k.a. Shawshank prison, in Mansfield, OH, on July 10, 11, and 12, 2020. Joining Limp Bizkit, Weezer and Blink-182 will be a diverse lineup that includes Papa Roach, Halestorm, Mastodon, Underoath, Hollywood Undead, Steel Panther, Falling in Reverse, Candlebox, Badflower, Atreyu, Static-X , Puddle of Mudd, New Politics, All That Remains, We Came as Romans, The Devil Wears Prada, Emmure, Attila, Stick to Your Guns, New Years Day, Escape the Fate, Cold, Carnifex, The Aquadolls, Band-Maid, Stitched Up Heart, September Mourning, Damn Nation, Paralandra, Along Came a Spider, A Killers Confession, MissYou, Sink the Ship, Dread Engine, Mollo Rilla, Saving Escape, and more.
Stay tuned for additional band and tattoo artist announcements.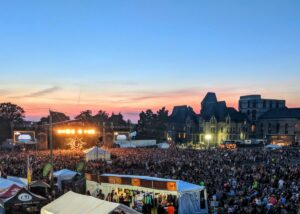 Ohio State Reformatory's historic building and grounds provide a perfectly eerie setting for the INKCARCERATION Festival. The massive, awe-inspiring locale is recognized as not only one of the most haunted reformatories in the country, but also as the filming location for multiple Hollywood films. The most famous of these films is the 1994 cinematic classic and IMDB highest rated movie of all time, The Shawshank Redemption, starring Hollywood legends Morgan Freeman and Tim Robbins.
Once again, it will be Halloween in July at the INKCARCERATION Festival as Escape from Blood Prison makes an early appearance. The annual Halloween haunted house attraction typically runs from the end of September through early November at the Ohio State Reformatory, but this spooky experience will be open all weekend long for festival goers. Once Blood Prison takes over the reformatory, it is filled with bloodthirsty inmates waiting for victims to enter and try to make it through the facility alive.
TICKETS:
Weekend Field Passes include three-day General Admission, Field Passes to the concert for the entire weekend and self-guided reformatory tours that start at just $189.
Attendees can further accent their experience with a Weekend VIP Pass, which starts at just $369. This pass includes: VIP wristband, Field Passes for the entire weekend, self-guided reformatory tours, air conditioned VIP lounge with seating and tables, free lunch and dinner catering each day, access to locker storage and cell phone charging, private bar and game area and outdoor lounge, an elevated covered grandstand, and dedicated Hydration Station, flushable restrooms and portable restrooms, entrance to the event and the Reformatory.
CAMPING:
Weekend Camping Packages are available for both tents and RVs. General Weekend Tent Camping starts at $199 and includes 1,000 square feet of space for up to four people, access to the A/C Camping Lounge, optional breakfast, lunch and drinks available for purchase, dedicated shuttles to and from the festival, re-entry during the festival via the camping shuttles, live entertainment after the festival, access to Camping Hydration Station, and access to showers and restrooms. There are five different lots available within the grounds. General Weekend RV Camping starts at $299 and includes the same amenities as Tent Camping plus hookups for electric and water. Admission to the festival is not included in Weekend Camping Packages and must be purchased separately.
Hotel and ticket combination packages are also available. All tickets, including Field, VIP, Hotel Packages and Camping, may be purchased at www.inkcarceration.com/tickets.
In its second year, INKCARCERATION Festival nearly tripled the inaugural year's attendance numbers, drawing 45,000 fans from nearly all 50 states, and worldwide as far as New Zealand. INKCARCERATION Festival has been awarded Mansfield's prestigious Tourism Award of Excellence, and has been recognized by the United States House of Representatives, Ohio Senate, State of Ohio Representatives and Congressional Proclamation.